Barracón de Influencia Africana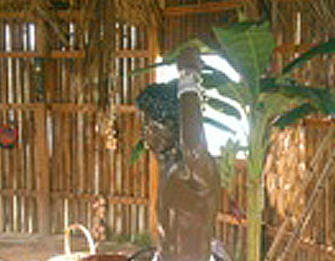 Este barracón es una réplica de las viviendas de los esclavos Africanos cuando llegaron a Puerto Rico. La esclavitud se consideraba un negocio muy lucrativo. Los esclavos hicieron posible el renacer de la agricultura por su fortaleza física y trabajo, especialmente en el cultivo de la caña de azúcar. Aquí podrás conocer acerca de los datos más relevantes acerca de la esclavitud en Puerto Rico, legado cultural-religioso y su abolición.
Slavery Quarters

This hut is a replica of a place where Africans slaves used to live when they were brought to Puerto Rico. Slavery was considered a very lucrative business. Slaves made possible the revival of agriculture on the Island due to their physical strength and work, specially in the sugar cane fields. Here you will learn more about slavery in Puerto Rico, their cultural-religious legacy and slavery abolition on the Island.