Faro de Arecibo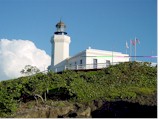 Su ubicación es de 18 grados 29' Norte, 66 grados 41.'9 Oeste en la costa norte de Puerto Rico a unas 34 millas al Oeste de San Juan. Este faro fue el último construido por los españoles en 1898. Su estilo es neo-clásico español de forma rectangular de 40'4" (12.30 mts) de ancho por 84'2" (25.64 mts) de largo, al cual se le anexa una torre hexagonal de 46' de alto. Sobre la torre descansa una cúpula en bronce y dentro de esta una luminaria la cual aún está en uso. En su origen contaba con un lente Fresnel de tercer orden cuya luz alcanzaba unas 18 millas de distancia. En la actualidad cuenta con un lente de 190mm que gira cada 5 seg. También es conocido como Faro Los Morrillos por encontrarse en una montaña rocosa conocida como "Punta Morrillo". En su interior podrán observar artículos que fueron encontrados en el fondo del mar, un traje de Buzo de 1910, una réplica de US Constitution y en sus paredes encontrará literatura relacionada a la historia del faro y la Guerra Hispanoamericana.
Arecibo Lighthouse
It is located 18º 29' North, 66º 41.9' West,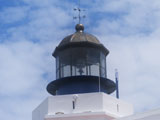 on the North Coast of Puerto Rico, 34 miles West of San Juan. This was the last lighthouse built by the Spanish government in 1898. The style of construction is neo-classical with a rectangular shape of 40'4" (12.30 mts) wide by 84'2" (25.64 mts) long, and has attached a hexagonal tower covered by a bronze dome with a working lantern. The original lens was a third order Fresnel, with an 18 mile radius. At the present time it has a 190mm lens with a white flash every 5 seconds. It is also known as "Morrillo's Lighthouse" because it is located on top of a rocky mountain known as "Punta Morrillo". In the interior of the lighthouse, you will be able to observe artifacts found at the bottom of the ocean, a 1910 diving suit, a replica of the US Constitution and on its wall literature relating to the history of the Arecibo Lighthouse and the Spanish-American War.